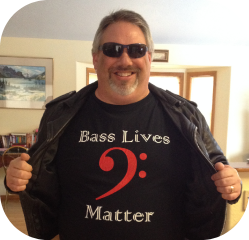 Derek's music "career" started in the late 80's and ran through the late 90's.  During that time he's had the privilege to play with some outstanding musicians in various bands in Western Washington.  Along with that came the opportunity to record a couple of band demos with My Cat Puddinhead, Judah and About This Big, do a little studio work for Nathan Creek and also be a part of the Worship Team at church.
During the 2000's he was able to collaborate and record with Sanctyfied on their 2007 album Flying High.  That inspired him to get working on his own music again which led to the 2011 release of his first solo album In the Christmas Groove and the release of The Beta Sessions in 2014.
Now the music focus is on the Joshua's Creed project.  Where does it go from here?  Only time will tell.